Kill Everyone
Release Date: June 21, 2011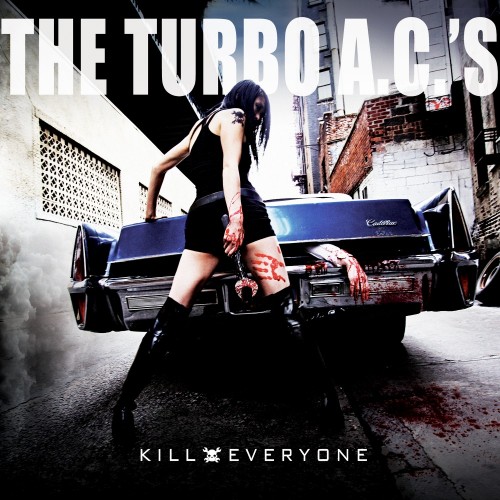 Tracks
0: Midnight Swim (intro)
1: Feed You To The Sharks
2: Into The Vortex
3: Emergency Room
4: Kill Everyone
5: Forget Everything
6: Ancient Chinese Secret
7: Die Tomorrow
8: Sonora
9: Shut Up Pills
10: Black Lipstick
11: Take Me Home
12: Live Fast Die Slow
13: You're So Stupid
14: Anna
15: Tu Vida Se Acaba Un Minuto A La Ves
16: Live Fast Die Slow (Revisited)
Kill Everyone
Release Date: June 21, 2011
Tracks
0: Midnight Swim (intro)
1: Feed You To The Sharks
2: Into The Vortex
3: Emergency Room
4: Kill Everyone
5: Forget Everything
6: Ancient Chinese Secret
7: Die Tomorrow
8: Sonora
9: Shut Up Pills
10: Black Lipstick
11: Take Me Home
12: Live Fast Die Slow
13: You're So Stupid
14: Anna
15: Tu Vida Se Acaba Un Minuto A La Ves
16: Live Fast Die Slow (Revisited)
Kill Everyone promises to be their best effort to date. Previous Turbo A.C.'s producer Blag Dahlia recently previewed the album and said "WOW! I dig it, sounds like T-Rex on pills," and called it a "new direction for Kevin Cole." -High praise indeed, even if that praise is coming from someone who is mostly high.
"Evolved" is a descriptor overused by most music writer, but The Turbo AC's really do show their evolution on Kill Everyone. It's a departure from their other releases, a composite of familiar Turbo AC's goodness with the spaghetti western-esque Sonora or the anthemic Black Lipstick, mixed with the slow-to-mid tempo Live Fast, Die Slow Revisted and peppered with ultra violence throughout. The AC's are especially proud to have Gary Lindsey of Hank Williams III and Assjack fame providing guest vocals on Tu Vida Se Acaba un Minuto a la Ves.
16 cuts deep and produced by Kevin Cole, Stomp Records will distribute the album in North America and Concrete Jungle in Europe.